About Us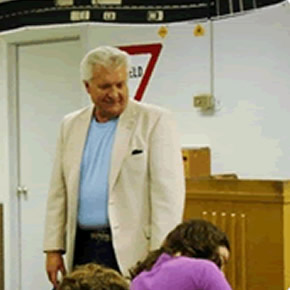 About Us
Serving New Mexico Since 1964
McGinnis Driver Safety Centers™ has been serving the needs of New Mexico since 1964. Wyett McGinnis, David McGinnis' father, was the original owner. David W. McGinnis, MDEI, LMDIE, (Master Driver Education Instructor, Licensed Master Driving Instructors Educator), owner and President of Driving Success, Inc. DBA McGinnis Driver Safety Centers™ has been working and teaching in his family's business for over 48 years.
David attends and conducts continuing education courses for all 50 of our States, Canada, and the United Kingdom. Plus, Mr. McGinnis is frequently called upon by other driving schools throughout the Nation as a consultant.
The expertise of David McGinnis is what separates our driving schools from all of the other driving schools here in our Land of Enchantment!
Any student who has attended Mr. McGinnis' lectures or met him personally all agree: He is an outstanding individual both personally and professionally. His lectures and public speaking abilities are unsurpassed. "Ask anyone...They'll tell you!"
McGinnis Driver Safety Centers™ continues to be the standard by which other driving schools are measured. History speaks volumes. Other driving schools have come and gone and will continue to come and go. McGinnis Driver Safety Centers™ proudly boasts that we are, "The Oldest, Largest and Finest!" The combination of David McGinnis and our instructors bring you over 280 years of combined experience in driver's education and service to the community.
Many of our instructors have been with us for more than 20 years and all of our instructors are also teachers and coaches at local public and private schools.
McGinnis Driver Safety Centers™ takes the anxiety out of driver's education. All of our teachers are certified through McGinnis Driver Safety Centers and trained thoroughly in all aspects of driver's education and certified through NMDOT. Our training program and our professionalism has been our mainstay and our reputation is recognized throughout the United States.